Gunther Wolf is increasingly booked as a keynote speaker for employer attractiveness. What content, methods and formats can he offer?


"Thank you for the very interesting employer attractiveness keynote speech! I will certainly implement some of your impulses in my daily work. Thank you very much for that!"
Human resources strategy: Keynote on employer attractiveness
Employer attractiveness keynote speech: What makes a company attractive as an employer?
How medium-sized companies become the employer of choice for their target candidates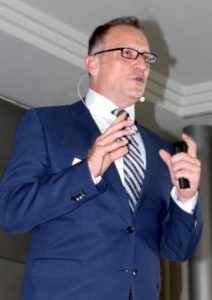 How can medium-sized companies also become attractive for applicants? The competition never sleeps, not even on the job market. What do small and medium-sized companies have to do to match the employer attractiveness of large companies?
The representatives of the member companies came to the annual conference of the BU with these questions. Gunther Wolf answered all these questions comprehensively, precisely, entertainingly and also motivatingly in his keynote speech on employer attractiveness for medium-sized companies.
His central message to the 300 company managements gathered here: "As a medium-sized company, don't try to imitate the ways and measures of the large corporations. Concentrate on your strengths and on what sets your company apart from large corporations. You have enough arguments to become the employer of choice for your target candidates."
Employer attractiveness keynote with aha effect
As a market-leading group, the BU regularly organizes the "Frankfurt Round Table". It all began many years ago when suppliers and trade organizations were invited to the annual general meeting in addition to member companies, with the aim of jointly addressing and exchanging information on market-relevant and future-oriented topics.
The concept of this symposium was so well received that the Frankfurter Round Table has since been held every two years with many hundreds of participants – and the trend is rising. In the meantime, Frankfurt Round Table has become the industry event for trade and production. For the organisation team of the association conference on 28 September around Christian Ritz it was clear: There must not be a keynote speaker missing, who takes up the change on the job market.
Employer attractiveness expert with practical experience in medium-sized companies
But it was also clear that only an expert on employer attractiveness with practical experience could be considered as a keynote speaker. Because neither the member companies nor the guests want to listen to theoretical explanations on the topic of the shortage of skilled workers. They want practical tips that can be implemented by small and medium-sized companies to increase their attractiveness as employers.
Who better than Gunther Wolf could be considered? More than 20 years ago, he founded the Competence Center Employer Attractiveness precisely in order to offer a platform for practice-oriented exchange on this topic. Over the last two decades, he has helped many hundreds of companies to increase their attractiveness to potential applicants, the desired target candidates and also to existing employees.
Speaker employer attractiveness shakes up
In his keynote speech on employer attractiveness, Gunther Wolf shows the participants how serious the situation on the labor market is. And he uses the birth statistics to show that the shortage of skilled workers, which is noticeable today, will double, triple in the next few years and even increase tenfold by 2035. "Employer attractiveness today is no longer a nice to have. Whether or not your company is attractive as an employer ultimately determines its continued existence!
In his usual humorous and entertaining manner, the keynote speaker will show which employer attractiveness factors are relevant for which groups of employees. Gunther Wolf is known for his intensive interaction with his audience – not only in his employer attractiveness impulse speeches – and for actively involving them. And so one of the participants summed it up: "Anyone who loves working in a large company firstly does not feel comfortable here and secondly we really cannot use people like that!"
Recruiting for the right target groups
What can and what must medium-sized companies do in recruiting? It has long been clear to everyone in the audience that it makes no sense in recruiting to address all potential applicants. "Align your recruiting precisely and exclusively with target candidates suitable for medium-sized companies. Make clear exactly those aspects that make working for you different from working elsewhere and in a large corporation. Then you will receive applications from exactly those people who fit your profile."
The Keynote Speaker for Employer Attractiveness explains exactly which aspects can be – and which not. "In medium-sized companies, we rarely have great career ladders, and neither do we have foreign assignments. But does everyone want to become a manager? Does everyone want to take their family to China for three years? Concentrate on the potential applicants who don't want that at all. And tell them that they don't have to in your case."
As a medium-sized company to the employer of choice
Wolf starts: "Where do the strengths of medium-sized companies lie in their attractiveness as employers? Let me mention a few of the most relevant aspects: Medium-sized companies offer employees a wide range of tasks – in a large corporation, you as an employee have a tiny area of responsibility. If you're good, you'll quickly be given a lot of decision-making leeway in medium-sized companies – in most large companies, a department head is allowed to make fewer decisions than the trainee in your company!"
Gunther Wolf emphasizes that the question of whether these are the advantages of working in medium-sized companies or rather disadvantages can only be answered by each employee for himself. "Do you want more arguments? In medium-sized companies, employees still know the management personally – in large companies, at most from television. And vice versa, the managers of medium-sized companies know almost all their employees – none of the board members at a large company can do that."
Attractiveness of employers in medium-sized companies
"You have good trump cards in your hand", Wolf encourages the participants, "then play them: decisions in medium-sized companies usually go in no time at all – in large companies, the employee sometimes has to wait weeks or months before he can continue working on something. In medium-sized companies you go over to the other department if you have a question – in large companies you have to follow the official channels and hierarchy."
"However, the decisive factor is not only that the applicant is suitable for SMEs and has a phobia of corporate groups," says Gunther Wolf. In the best case, the applicant also fits the company exactly. The moment that triggers a purchase on the sales market is the USP, the unique selling point of the respective product. Similarly, the unique selling point of the company as an employer, the Unique Employer Value Proposition (UEVP), is the factor that triggers the application on the job market.
Unique Selling Point is decisive
In the employer attractiveness impulse lecture, Gunther Wolf explains in a practice-oriented manner how to determine the Unique Employer Value Proposition or, if not available, how to generate it. He has developed a simple, four-step method for this purpose, which can be implemented in companies of any size.
Which of the keynotes employer attractiveness is the right one for us?
With his keynotes Employer attractiveness Gunther Wolf inspires the audience and encourages them to tackle the strengthening of employer attractiveness immediately. The audience immediately recognizes his enormous practical experience in this field. They benefit from the Keynote Speaker's high level of expertise and his practical examples. Gunther Wolf is able to fill employer attractiveness with his keynotes between 15 minutes (as a keynote speech employer attractiveness) and 4 hours (with integrated practical workshop).
Possible contents of the speech about employer attractiveness
Labour market trends
Employer attractiveness is no longer a nice-to-have
Advantages of high attractiveness as an employer
Costs for high attractiveness as an employer
Ways to high attractiveness as an employer
Become the employer of choice for the target candidates
4 steps to identify own strengths and UEVP
Address target candidates precisely
Measuring the attractiveness of employers
Pitfalls, hurdles and resistance
Ensuring sustainability
How to start best
Each of Gunther Wolf's keynotes on employer attractiveness is peppered with helpful tips, hard facts, the very latest findings from science and practice, and useful arguments for implementation in your own company.
With targeted and correctly dosed punch lines and anecdotes, he anchors the central points of the keynote speech in the minds of the participants and provides them with material for exchange and discussion during the breaks.
Employer attractiveness in medium-sized companies: Service links for you
We will be happy to send you further participant votes on request. If you would like to book Gunther Wolf for a keynote address on employer attractiveness, please contact the employer attractiveness expert.
WOLF Management Consultancy | Summary
Designation
Employer attractiveness keynote speech: What makes a company attractive as an employer?